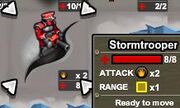 The Stormtrooper is rare they are also known as the ``Crimson Commander''.Even though they have a Machine Gun like the Elite Eliminator but they are still weak . And they are not called Stormtroopers for nothing you know !
Health: 8
Damage: 2
Range: 1
They use chainguns of some sort.
Some of their uniform appears to be based on the German Sturmtruppen (stormtroops) of World War II.
They can move across your territory and mess up your front.
They resembles Shadowloo members from Street Fighter series.
Ad blocker interference detected!
Wikia is a free-to-use site that makes money from advertising. We have a modified experience for viewers using ad blockers

Wikia is not accessible if you've made further modifications. Remove the custom ad blocker rule(s) and the page will load as expected.