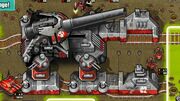 The Railgun is a massive weapon that has (in total) 1400 life.
It is divided into:
a Primary Unit (500 health)
Transference Area 1 (200 health)
Transference Area 2 (200 health)
a Reaction Gun (200 health)
two Droid Bays (150 health each).
It was protected by Echo Station 3-T-8, a generator that can be found in the Eastern Mountains.
Ad blocker interference detected!
Wikia is a free-to-use site that makes money from advertising. We have a modified experience for viewers using ad blockers

Wikia is not accessible if you've made further modifications. Remove the custom ad blocker rule(s) and the page will load as expected.