http://free-army-attack.wikia.com/wiki/Free_Army_Attack_Wiki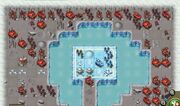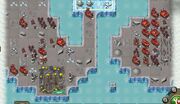 Nordurland is a cold and bleak island situated 6500 km north east of your country. Its good people are now being attacked by the Crimson Empire. Nordurland contains special units and defenses, such as the Black Fox unit and the abhored Elite Missile Tower.
http://free-army-attack.wikia.com/wiki/Free_Army_Attack_Wiki
It is where Operation: Polar Bear takes place.
If the player lag supplies but has a lot of cash in reserve. Pay them here to create a lot of supply (Cost $2600 and receive 3000 supply)
Areas on the island include:
File:Air terjun di m2 yg tersimpan.jpg

First Area