Guard Station
The Guard station is an enemy fortification with a Medium attack radius. The defense is very common in the maps during many battles.
You meet the Guard station first during the battle of Eastshire (battle with Governor James Fierce)
Secondly you see the Guard station during the battle of Western Plains (battle with Chief McDuff)
And the guard station is also in the battle of the Capital District (battle with Viceroy Ville)
It has 5 Health 1 attack damage and 2 Range.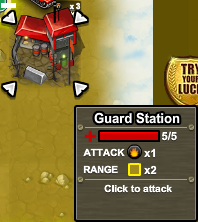 Ad blocker interference detected!
Wikia is a free-to-use site that makes money from advertising. We have a modified experience for viewers using ad blockers

Wikia is not accessible if you've made further modifications. Remove the custom ad blocker rule(s) and the page will load as expected.