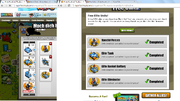 == Under the "Free Units" tab, you can obtain some free elite units by inviting your friends to play. If your invited friend plays, that counts as one referral.
It may take many referrals to get top elite units, but it saves gold for those who cannot purchase elite units.
List of Obtainable Units and Cost
Edit
Special Forces - 2 Allies
Elite Tank - 5 Allies
Elite Rocket Battery- 10 Allies
Elite Eliminator - 10 neighbors
Ad blocker interference detected!
Wikia is a free-to-use site that makes money from advertising. We have a modified experience for viewers using ad blockers

Wikia is not accessible if you've made further modifications. Remove the custom ad blocker rule(s) and the page will load as expected.