Command Bunker
The Command bunker appears multiple times in game. The first time you see the Command bunker is during the fight of Eastport (battle with Colonel Stark) and Secondly you see the Command bunker in Libery during the mission "Cutting the Scorpion Tail".
It Has 65 Health 1 attack damage and 1 range.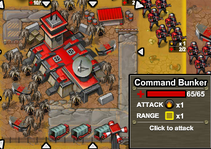 Ad blocker interference detected!
Wikia is a free-to-use site that makes money from advertising. We have a modified experience for viewers using ad blockers

Wikia is not accessible if you've made further modifications. Remove the custom ad blocker rule(s) and the page will load as expected.