"Boost up your Army with items worth $50 for $4.99."
Edit
The Booster Pack is available for players seeking to get an upgrade on cheap prices. Normally available for $50, the pack is priced $4.99 to attract the attention of players to buy it.
 The following contents of the pack are:
Flame Force unit x1
Energy (60 Energy in packs)
Elite Landkreuzer unit x1
Supplies (3000 Supply in packs)
Army Golds x100
Damage Booster +3 x20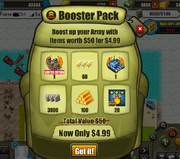 Ad blocker interference detected!
Wikia is a free-to-use site that makes money from advertising. We have a modified experience for viewers using ad blockers

Wikia is not accessible if you've made further modifications. Remove the custom ad blocker rule(s) and the page will load as expected.