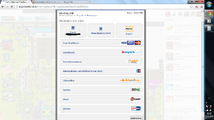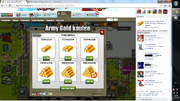 Army Gold is a special item that can be obtained with buying with real money or leveling up. Army Gold can be used to buy items, special units, instant unlock to units, pass a mission, packs from the shop, instant unlock to buildings, hire workers, instant delivery of supplies, Nordurland island, revive sabotaged supplies, and other.
it can be bought with:
Visa,EC,Paysafecard,giropay,click and buy,daopay,ukash and with your handy 
costs in $ and € ! (dont forget in €) AG=Army Gold
29 AG = $2.90 and 2,21€
103 AG = $9.90 and 7,54€
158 AG = $14.90 and 11,35€
480 AG = $43.90 and 33,45€
650 AG = $55.90 and 42,60€
1300 AG = $99.90 and 76,12€
Ad blocker interference detected!
Wikia is a free-to-use site that makes money from advertising. We have a modified experience for viewers using ad blockers

Wikia is not accessible if you've made further modifications. Remove the custom ad blocker rule(s) and the page will load as expected.