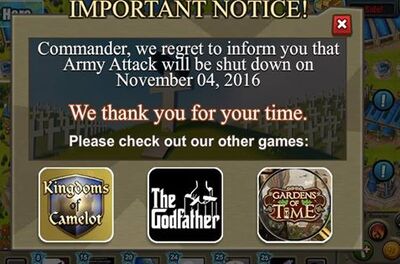 Army Attack has finally been discontinued on November the 04, 2016, after over five years in its existence. Players were notified with a special message in serif font, and were given the option to try out three new games.
It is likely that the fourth map, Colossal Island, have never been fully revealed (There are 25 areas, but only three are known. There are more areas than the number of areas in the previous three islands combined).
Ad blocker interference detected!
Wikia is a free-to-use site that makes money from advertising. We have a modified experience for viewers using ad blockers

Wikia is not accessible if you've made further modifications. Remove the custom ad blocker rule(s) and the page will load as expected.