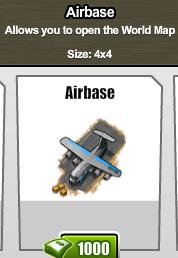 The Airbase is a very crucial factor to your sucess in Army Attack. The Airbase is used to unlock the World Map and to complete the Special Operations Mission in the game. During your campaign, while playing the game, one objective is to defend an island that is under siege by the enemy Crimson Empire.
Requirements
Edit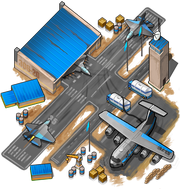 To unlock the Airbase, you will need an Arsenal. Once you have unlocked the Airbase you must pay $6000 using the in-game money to buy it. After building it you need the following items to finish the structure:
Once you collect these items, you will be able to finish the Airbase and unlock the World Map.

The plane in the hanger appear to be a F-16 Fighter Jet.
The 2 aircraft parked on either side of the runway seem to be F-35 "lightning" aircraft with modified wings.
The bigger plane appears to be a heavy cargo plane, presumably a C-17 or C-5 Galxy.